ABOUT MR JOHN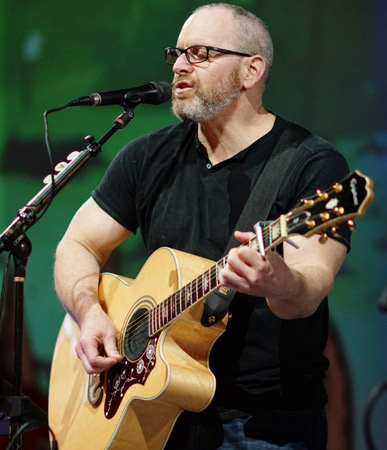 You might rightly wonder how the biology on that works, but that's how one reviewer described John's 2016 album Harder Roads. John's song "Silly Boy," from his 2015 debut album Light of Day, tells a lot about him: a "silly boy who sits at home and likes to read, who plays guitar and sings of dreams, who writes long letters and softly speaks."

John's poetic melodies — "timeless, enduring, yet also current and relevant" — have drawn more notice. American Songwriter Magazine chose John and his song "Light of Day" for its Daily Discovery feature.

John has made a living for much of his adult life writing and speaking into microphones as a broadcast journalist. Once an Emmy-nominated TV news and sports anchor, he still anchors news part time for a Tampa radio station.



John anchors a newscast on 970 WFLA radio in Tampa

"Songwriting relies on many of the same observational and storytelling skills you need for news reporting," says John. "Of course, you can take poetic liberty with facts in songs that you can't in journalism."

John played all the instruments except for drums and did all the production on his first two albums. That includes acoustic and electric guitars, piano and synthesizers. A burgeoning reputation as as premiere songwriter whose voice can deliver on his songs' promise has led to opportunities to collaborate as John readies for his next set of recordings.

OK, about the name "Mr John." It's not that his full name is secret. It's that John McQuiston doesn't sound like a musician's name and John Cougar was taken. John Leopard? Yeah. That didn't work for him, either. Unlike many musicians, John did not start by playing other people's songs, and he didn't learn his first cover song until he had already recorded two albums of his own compositions. And you didn't ask, but maybe you wondered. All those stock photos of guitars here? They're actually pictures of John's guitars and he took them.
1
If you did not come here to read, don't worry! The music page has more of John's songs. Check them out!
2
John has had cinematic videos made of several songs, and you can see live performances of others.